The biggest earthquake strikes in Nepal
Rescue efforts in Nepal are intensifying after
nearly 2,000 people were killed on Saturday in the worst earthquake there in more than 80 years.
Many countries and charities have offered aid to deal with the disaster.
Seventeen people have been killed on Mount Everest by avalanches – the mountain's worst-ever disaster. Meanwhile a powerful aftershock was felt on Sunday in Nepal, India and Bangladesh, and more avalanches were reported.
The 6.7 magnitude tremor sent people running for open ground in Nepal's capital Kathmandu. Screams and the sound of an avalanche could be heard as an Indian mountaineer was interviewed by phone from near Everest by Reuters news agency. The death toll from the original earthquake could rise, as the situation is unclear in remote areas which remain cut off or hard to access.
Many mountain roads are cracked or blocked by landslides. Scores of bodies have been ferried to hospitals in Kathmandu, many of which are struggling to cope with the number of injured.
More than 700 have died in the capital alone. Media captionAs Nick Quraishi reports, many spent the night on the streets.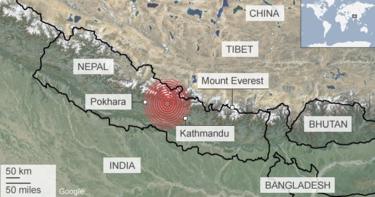 Medics are expecting a fresh influx of patients on Sunday as supplies run low. Rescuers in places used their bare hands to dig for survivors still buried underneath piles of rubble and debris overnight on Saturday.
Army officer Santosh Nepal told the Reuters news agency that he and his soldiers had to dig a passage into a collapsed three-storey residential building in Kathmandu using pickaxes because bulldozers could not get through the ancient city's narrow streets. "We believe there are still people trapped inside," he told Reuters. (Source:bbc )
———————————————————————

Some of the Earthquake Safety Precautions are mentioned below….

What to do before an earthquake.
Make sure you have a fire extinguisher, first aid kit, a battery-powered radio, a flashlight, and extra batteries at home.
Learn first aid.
Learn how to turn off the gas, water, and electricity.
Make up a plan of where to meet your family after an earthquake.
Don't leave heavy objects on shelves (they'll fall during a quake).
Anchor heavy furniture, cupboards, and appliances to the walls or floor.
Learn the earthquake plan at your school or workplace
What to do during an earthquake
Stay calm! If you're indoors, stay inside. If you're outside, stay outside.
If you're indoors, stand against a wall near the center of the building, stand in a doorway, or crawl under heavy furniture (a desk or table). Stay away from windows and outside doors.
If you're outdoors, stay in the open away from power lines or anything that might fall. Stay away from buildings (stuff might fall off the building or the building could fall on you).
Don't use matches, candles, or any flame. Broken gas lines and fire don't mix.
If you're in a car, stop the car and stay inside the car until the earthquake stops.
Don't use elevators (they'll probably get stuck anyway).
What to do after an earthquake
Check yourself and others for injuries. Provide first aid for anyone who needs it.
Check water, gas, and electric lines for damage. If any are damaged, shut off the valves. Check for the smell of gas. If you smell it, open all the windows and doors, leave immediately, and report it to the authorities (use someone else's phone).
Turn on the radio. Don't use the phone unless it's an emergency.
Stay out of damaged buildings.
Be careful around broken glass and debris. Wear boots or sturdy shoes to keep from cutting your feet.
Be careful of chimneys (they may fall on you).
Stay away from beaches. Tsunamis and seiches sometimes hit after the ground has stopped shaking.
Stay away from damaged areas.
If you're at school or work, follow the emergency plan or the instructions of the person in charge.
Expect aftershocks.