Eclectic Bathroom Designs for 2019
Most people would describe eclectic as a design without much order. Everything going with everything, and not much attention is paid to details. Well, it's actually quite the contrary. The eclectic design does allow you to unite a variety of styles, but only to a certain extent. Too much variety can certainly break your delicately thought-out design, which is why you should know exactly how to achieve that visually impactful design without going overboard. If you've thought about rearranging your bathroom this year, check out some of the eclectic bathroom ideas for 2019.
Mix contemporary and traditional
The eclectic design has been greatly popular over the years, and it certainly stood out among Aussie people. One of the best ways to follow the example of Australians and breathe in eclectic design into your bathroom is to mix the old with the new. Most of the people nowadays prefer smooth surfaces, up-to-date furniture and updated lighting fixtures, but all of that can quickly become eclectic with a touch of traditional. Pick several design elements from different eras, and make a traditional claw-footed tub a focal point of your bathroom.
A rough-hewn, hand-distressed bench made of unfinished, natural wood will add a touch of the old-fashioned vibe that your bathroom needs to look eclectic. You could even consider implementing the classic tub design on an angular, modern tub base in order to combine distinctive yet complementary styles.
Liven it up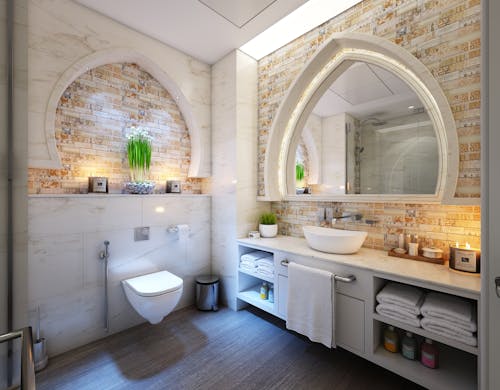 Sometimes bathrooms can look a tad boring if you stick to ordinary design. To make sure your bathroom is unique, think about adding a pop of colour to your white or light-blue bathroom. Paint the walls bright yellow, or change up the faucets and plumbing fixtures to match the more industrial design that will go perfectly with your modern look.
However, don't mess with the plumbing yourself; call a good Perth plumber to change the pipes and inspect your plumbing before you decide to maybe relocate certain fixtures. Unless you have experience with plumbing, you should always rely on professionals to do the job properly. Think about using a paint brush and start painting on the walls, to add a personal trademark to them.
Dress it up with furniture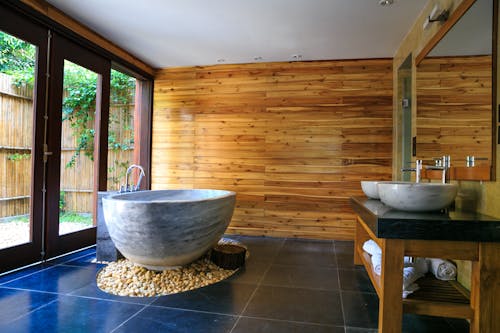 It's been a long time since bathrooms looked just like that – a room for you to wash up, refresh and go to the toilet. Lately, we can see bathrooms all over the world, from America to Asia and Australia, being transformed into powder rooms and even the favourite place to relax and unwind.
What this means is that you can now place your leather sofa, plush pillows and your favourite wool rug in the middle of the bathroom to make it as eclectic as ever. With an armchair by the tub, you can have your partner sit by your side, read to you or just wash your back as you talk about the ways you spent your days. Alternatively, stack magazines on the armchair for a slightly more eclectic vibe.
Add vibrant hues
If you've opted for a neutral colour for the bathroom floors and walls, a vibrant zesty orange will warm up the room while giving it a bit of eclectic style. An orange mat shaped like a fish, orange shower curtains matching a comfortable chair will be flawless additions to your otherwise plain bathroom.
Incorporate a few gold elements and you'll have the perfect combination of white, orange and gold, creating the ultimate eclectic vibe in your home. A bookshelf from floor to ceiling in one of the corners can significantly improve the look of your bathroom. You can put old or new books on it, stack magazines or fill it up with colourful knick-knacks to liven up the ambience.
Accessories make a difference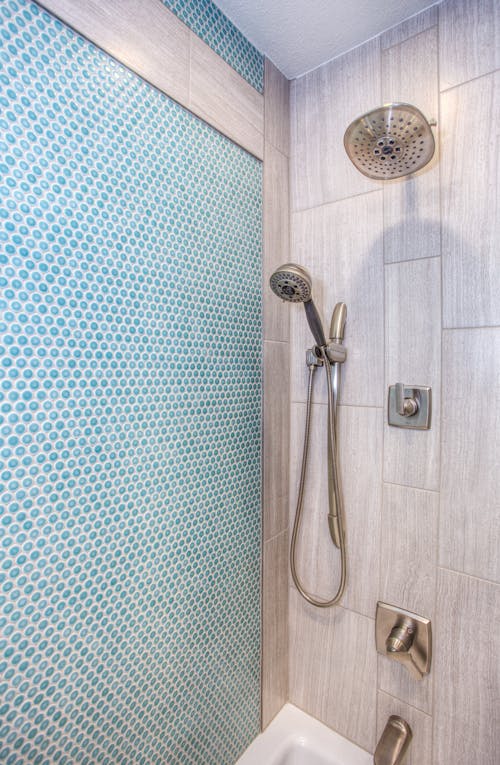 Accessories are life savers. Those little decorative items can bring more spirit to the room than a tub or any other bathroom fixture could. That's why you should pay special attention to accessories in your bathroom. From towels to bath mats, soap dispensers, loofahs, candles, flowers and curtains, your bathroom will look completely different with several well-combined accessories.
Match soap dispensers with towel racks, add picture frames in various colours to the walls, consider leaning ladders against the wall and add a decorative item that can double up as a towel holder or even a storage place for all the vanity essentials.
The eclectic design allows you to combine contemporary with traditional and mix the best of both worlds into one unique design. Therefore, if you'd like to freshen up your bathroom a little, don't hesitate to experiment with the eclectic design and see where it'll lead you to.